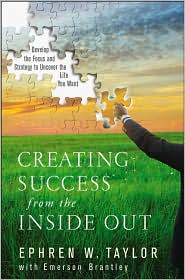 Most authors tell me they wrote their book "becaucse people need this information"
They miss one important point.
Most of us do not wake up in the morning, worry about a problem and think "maybe I'l read a book"
Ephren Taylor gets it
I've been working with Ephren over the past few months. His book Creating Success from the Inside Out is a best seller and he's received a lot of media coverage, but this is not the objective for Ephren
Ephren stated a company at 12, became a millionaire at 16 and retried as a multi millionare at 19, so he's not trying to 'make it rich' now. I find that most successful authors, whether you have money or not, are writing books as part of a broader mission.
It took about 7 minutes talking to Ephren to discover how his mission will change lives, improve community and make a high rate of return for investors (imagine, doing good work and making a profit.. WOW).
I was so impressed with Ephren, that I insistent he share his story with authors and entrepreneurs on a webinar.
Join us Wednesday August 6th (click here for details). Ephren will give you a free copy of his best selling book, share his story and his passion and tell you how you can get invovled.
The is nothing for sale on this call. Ephren does not have a success course, more books and tapes, or seminar for you to attend.
You may want to follow what Ephren suggests, or you may just learn about some incredably powerful book marketing. Either way, I invite you to take a look at Ephren Taylor and take the free book (It's a good read)