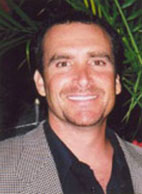 Matthew Bennett is a self-published author who's relatively unknown to the general public. Yet he's sold over 5 million books in quantity to Fortune 500 corporations including Disney, Reebok, NBC, Abbott Labs, Pfizer, US Healthplans, Subway and innumerable others.
Want to learn how he does it… and how you too can get started selling your books by the truckload to big companies?
Join me on a free telephone seminar on Wednesday, July 23rd on which you'll hear Matthew interviewed by Steve Harrison of Book Marketing Update about his methods for proven system for selling tons of books.
On Wednesday's teleseminar, Matthew will reveal why you don't have to be a well-known author (or even an expert) to get companies to buy your book.
You'll hear how as a single guy living in California, he wrote a book called "The Maternal Journal." He sold more than 3 million copies of that book alone to companies like Ross Labs and Babies 'R Us. These companies offered the book as an incentive to increase sales.
He'll also reveal:
How he's used this strategy to sell millions of books AND raise over $1 million for charity.
The top three reasons it's often easier to make HUGE sale than it is to make small ones.
How even shy, introverted writers can sell a boatload of books to big companies.
The three things you ABSOLUTELY HAVE TO ARM YOURSELF WITH before ever pitching your project.
Matthew's five secrets of how to identify and reach the right person at the right company to sell truckloads of your books.
How to never pay a printing bill again with your own money! You'll learn how to get paid BEFORE you print your books!
Three proven ways to avoid wasting months (and sometimes years!!) on your project.
How to get nonprofit organizations to endorse your book (he's gotten endorsements from such organizations as American Heart Association, March of Dimes, and American Diabetes Association!)
To register for Wednesday's call with Matthew FREE just click on this link now