I was prepping for a class teaching online book marketing and came across David Meerman Scott's "The New Rules of Marketing & PR: How to use news releases, blogs, podcasting, viral marketing * online media to reach buyers directly"… and since I haven't posted a review, thought it would be appropriate to share it here.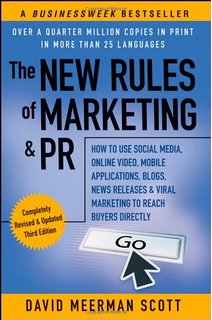 New Rules came out last year, and uses numbers from 2006, but there isn't anything in the book that wouldn't be appropriate for authors to put into action right now. As Scott admits at the end of the book "I don't expect you to implement all of this as I haven't myself." I admit the same. There is a lot to keep up with to market today.
The key point Scott makes in "The New Rules of Marketing & PR" is that we should not be pitching media for coverage. There are millions of bloggers, social networking leaders, and other who are already having discussions on your topic. All of them need content, and once you start getting a reputation online, the traditional media will find you in search engines.
The recommend actions for an authors wanting to become a best seller online are much like I talk about here.  I've summed these up in terms of author promotion, but companies are advised to do the same things.
Get a blog and post quality content
Comment on other blogs
Issue press releases designed to be read by your readers
Make sure you are present on social networking sites.
If you have a background in PR or marketing, you'll especially like the Scott's frame of reference. The book is written in a style that anyone can follow. The examples show how many authors, bloggers and companies have found new readers, launched products, increased sales and made best sellers.
Adopt the new rules and you will see more traffic, readers and sales of your book.  Post a comment here and let me know how you are planning on getting more web presence, or ask a quesition about book marketing so I can answer